Leon Tours Mexico
Your Experts for vacations in Mexico
Leon Tours is a small family-run travel agency headquartered on the tropical island of Cozumel. We offer private tours and excursions in small goups on Cozumel and to the most beautiful attractions of the Riviera Maya. Specializing in the Yucatan peninsula, its famous underwater world and its highly interesting cultural sites, we have put together a selected program for our guests in one of the safest regions of Mexico.
Long expertise in tourism
The owners Birgit and Gerson have been working in tourism for many years. Both are part of the Mexican tour guide syndicate SINALTUR and are often booked by cruise ships for cultural tours on Cozumel and the Riviera Maya. In 2016, they came up with the idea of ​​offering private excursions and small groups tours. This is how Leon Tours, based in Cozumel, was born.
Birgit is originally from Munich in Germany and came to Cozumel as a diving instructor. There she met Gerson, together they have a son. Gerson has a great knowledge of Mexican history and Mayan culture, and gives tours in English, Spanish and German.
The best excursions on Cozumel and the Riviera Maya
We have designed our tours for guests interested in the Mexican culture and nature. The main focus being on Cozumel excursions for cruise ship passengers and guests that stay on the Riviera Maya. Allow yourself the luxury of a private tour with your personal tour guide, expert in Mexican history. Some standard tours complete our offer of private tours, such as snorkeling tours on Cozumel.
Our team from Leon Tours Mexico
With years of experience in tourism, we look forward to helping you plan your vacation. Get to know the Leon Tours team and learn more about our certified tour guides.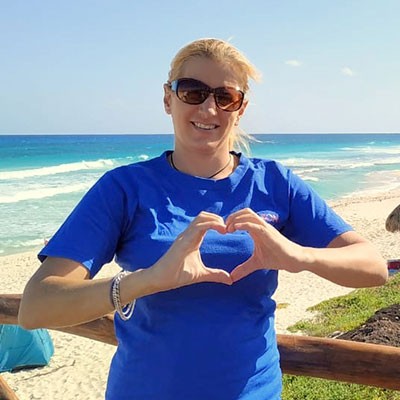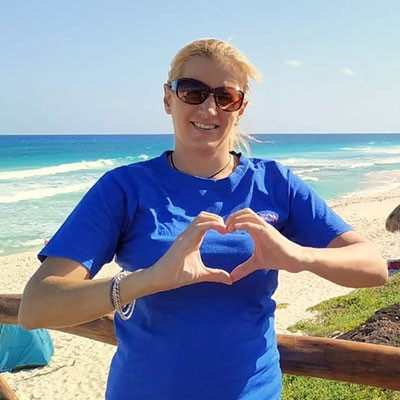 Owner and Tour Guide Birgit
Birgit is a certified PADI dive instructor and a SECTUR (Secretaria de Turismo in Mexico) certified tour guide. She loves the Mexican history and has many years of experience in tourism, both as a dive instructor and tour guide. She takes care of the organization and communication of Leon Tours. Birgit is originally from Munich, Germany, but she loves the Caribbean. Before she came to Mexico, she lived in Honduras and Nicaragua and knows the diversity of North- and Central America as well as the Mayan regions. Now she lives with her family in Mexico.
Owner and Tour Guide Gerson
Gerson is a real Mayan descender and lives on Cozumel for more than 8 years. He is tour guide, dive master and photographer. Gerson is originally from Cancun and has lived and worked in various tourist areas in Mexico. Having grown up by the sea, he knows the best diving and snorkeling like no one else. He can also tell many stories about attractions out of the water. Gerson is a state certified tour guide speaks Spanish, English, German and also some Maya.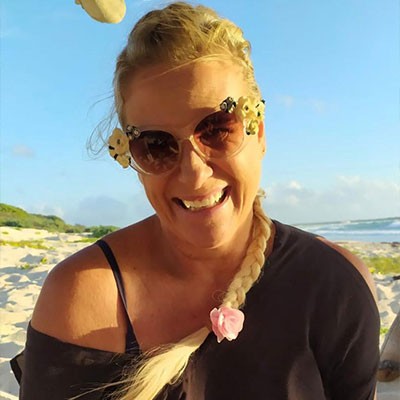 Andrea has lived in Mexico for 30 years and on the island of Cozumel for 18 years. She knows every corner of her Island and has brought up her three children here. Together with her husband, children, dogs and horses, she lives on a farm-like property, loves her garden and the tropical flora and fauna. This is our specialist for nature-oriented excursions such as our
Cozumel excursion to Punta Sur lagoons and the beach
. Andrea speaks perfect Spanish, English and German.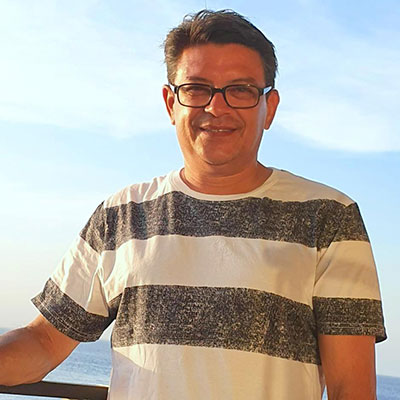 Patrick has lived on the island of Cozumel for 24 years. In the beginning he came as a dive instructor and worked for a long time at different dive schools on the island until he opened his own dive school. Now he works as a diving instructor and tour guide, his main focus is the fascinating underwater world of Mexico and the island of Cozumel off the beaten track. Patrick is a passionate motocross rider and originally from Switzerland. He speaks perfect Spanish, English, Italian and German and some French.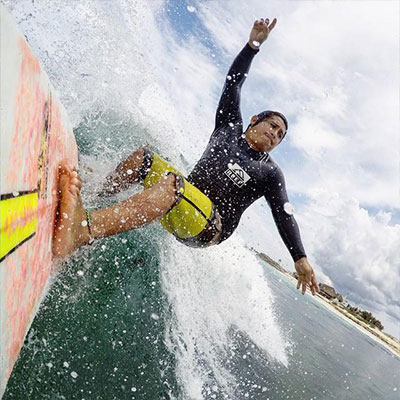 Machito is a surf instructor and owner of the
surf school Machito Surf Lessons
on one of the most beautiful beaches of the island, Punta Morena. He is a real Cozumeleno and one of the founders of the local surf scene. With a lot of experience and motivataion, he will let you ride your first wave within a very short time. Anyone who wants to continue after the classes just keeps the board and practice more.