Biodegradable Sunscreen
Coral Protection
Biodegradable sunscreen: Coral Protection
A special consideration for the vacation luggage to Mexico should be the 
right sunscreen
. Because we have to protect our skin against the 
strong sun
 and 
dangerous UV rays
. However, the chemicals used in traditional sunscreen destroy corals and are harmful to marine life. Therefore, sunscreen not allowed anymore in most natural parks of the 
Riviera Maya
 and also on 
Cozumel
. Outside the parks, 
biological sun protection
 is recommended, which does not contain any 
chemical ingredients
 or 
harmful nano-particles 
and therefore do not destroy the corals.
The best Sun Protection for Mexico
Even though many researches about the 
toxicity of sunscreen
 exist, many tourists still use conventional sunscreen. Most people are not aware of how much they harm the corals. Especially in popular areas, where many people like to swim, the concentration of the harmful substances from chemical sunscreens increases. According to the 
US Marine Agency NOAA
, up to 6,000 tons of sunscreen ends up every year in seas with coral reefs. The result is 
coral bleaching
 and 
displacement of fish
 from their habitat.
In this article, we give some recommendations on what to consider when buying biodegradable sunscreen for your Mexican vacation. If you would like to buy biodegradable sunscreen, further down we have listet harmless sunscreens for Mexico.
This might be also of interest:
Biodegradable sunscreen – What is that?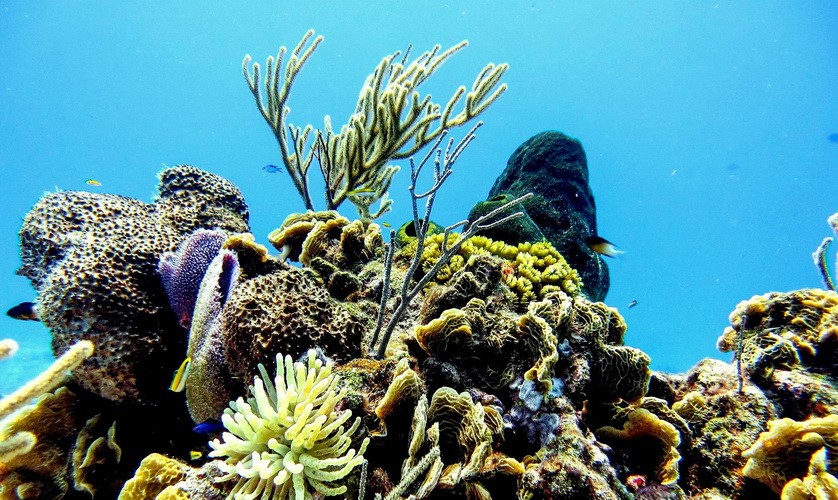 Biodegradable sunscreen: Environmentally friendly sun protection
Environmentally friendly sunscreen is free of 
chemical ingredients
 that often occur in conventional sunscreen. Life in the water is not damaged if the sunscreen washes off while bathing, snorkeling or surfing. Biodegradable sunscreen uses no 
harmful chemicals
 such as oxybenzone, octocrylene and parabens, which protect against UV radiation but also harm the environment.
For these reasons, sunscreen has been banned in some areas of Mexico to protect the corals from further damage. It is not always clear which sunscreen is 100% environmentally friendly – the ingredients are too diverse for that. For example, in the freshwater cenotes of the Yucatan Peninsula, strict attention is paid to water quality. Some of this water is still used as drinking water. Cozumel also takes great care to protect its coral reefs. Here you have to go without sun protection or put on a shirt to protect your skin (which offers the best protection from the strong sun anyway).
Conventional sunscreen is one of the main reasons for coral death
The best Sun Protection for Mexico
Biodegradable sun protection for Mexico – How do you recognize it?
Biodegradable sun protection is not so easy to identify.
Many manufacturers describe their sun protection as 
environmentally friendly
, even as 
vegan
. This sounds nice and there are pretty logos on the packages such as reef-friendly, fish-friendly etc. which symbolize the environmental compatibility of the sunscreen.
However, the logos are often designed by the companies themselves. Unfortunately, these marketing phrases cannot be trusted. Because the list of ingredients all too often contains chemical elements. In conventional drugstores, there are some sun protections that use fewer pollutants than others. However, these creams do not guarantee comprehensive protection for the underwater world.
An environmentally friendly sunscreen does not contain any chemical ingredients.
The best Sun Protection for Mexico
This might be also of interest:
Which ingredients in sunscreens are harmful to the environment?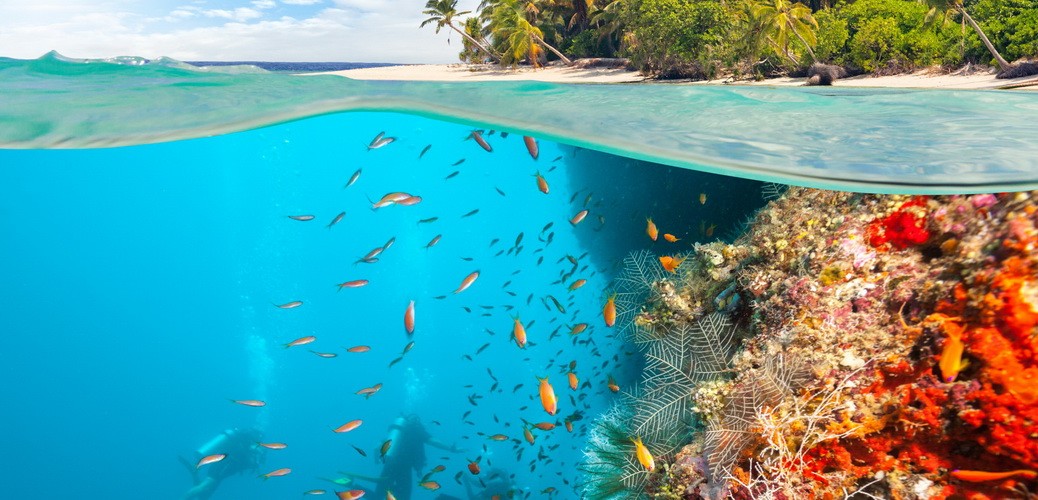 Environmental friendly sun protection for healthy coral reefs
If it is not explicitly stated, sunscreen is not environmentally friendly. The following ingredients are harmful to corals and fish: PABA, Octinoxate, Oxybenzone, 4-Methylbenzylidene Camphor and Butylparaben. These oils dissolve while swimming and settle on the corals like an invisible film. Harmful sunscreen is one of the main reasons for coral bleaching! We looked at different manufacturers of sunscreen and have checked the ingredients carefully.
PABA, octinoxate, oxybenzone, 4-methylbenzene camphor and butyl parabens are environmentally harmful components in conventional sunscreens
If you would like take care of the corals while on vacation and still don't want to go without sun protection, you should get a biodegradable sunscreen online. Below we give a few tips for good biodegradable sun creams with a high protection factor. We have supplemented this compilation with protective Lycras, from our point of view anyway the safest protection against harmful UV rays.
For your safety in the sun and happy fish.
How to enjoy the sun without harming the environment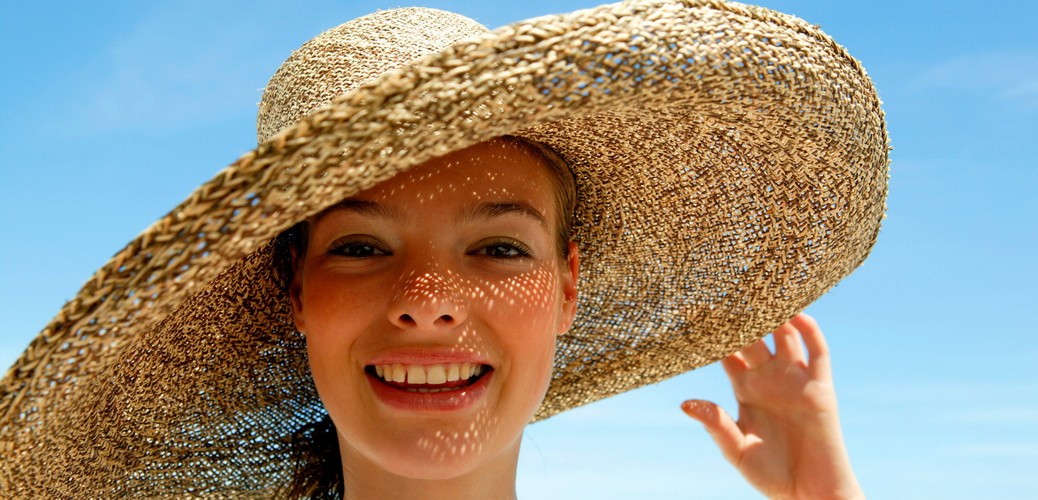 Environmental friendly sun protection: El Sombrero
On the packages of sunscreens, there are indications for carefree sunbathing. Sunscreen should always be applied one hour before enjoying the sun. Then the sun protection is completely absorbed into the skin and will no longer wash off in the water. The biggest problem for our corals are tourists, who apply sunscreen just before entering the water. This sunscreen can then be found very quickly on the water surface like a lubricating film. And the protection is gone anyway, nothing is left on the skin.
A wide-brimmed hat brings shadows to the face and thus protects the particularly sensitive skin on the face from the aggressive sun rays. That is why the sombreros, sun hats with a very wide brim, are so popular in Mexico. They do not only offer excellent sun protection, they are also a wonderful souvenir from Mexico.
Tour guides, diving instructors, snorkeling guides – they all do not use sunscreen but UV clothing. Rash guards and wetsuits are the best way to protect your skin from the sun. And whenever you can – seek out for shadows.
Sunscreen should be applied at least one hour before swimming in the ocean. Then the sunscreen does not wash off in the water.
Biodegradable Sun Protection – our recommendations
Applying sunscreen is prohibited in many Mexican national parks
Biodegradable sun protection does not contain any chemical substances that damage the underwater world
The best sun protection in the water is sun protective clothing
AFFILIATE LINKS
This article contains product recommendations in the form of affiliate links. If you buy something through these affiliate links, we get a small commission. This does not change the price for you.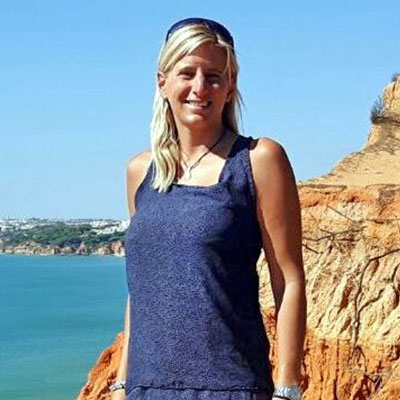 Hello, my name is Birgit and I write about interesting topics around vacations in Mexico and traveling on the Yucatan peninsula. I would love to hear from you and I am always happy to receive ideas and recommendations for new articles.
Enjoy reading!!!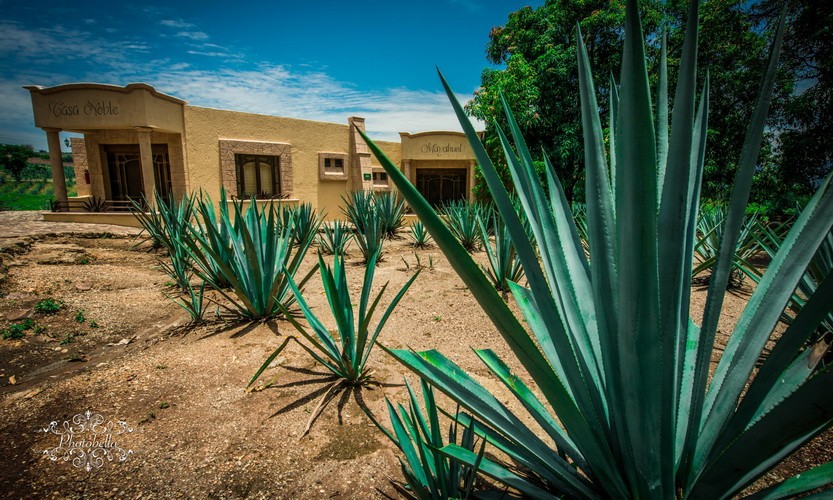 Tequila from Mexico How to recognize High Quality TequilaHigh Quality Tequila: Recommendations from MexicoOne of Mexico's most popular souvenirs is tequila. It is the most famous form of the Mexican national drink Mezcal and is extracted from the heart of the blue...
read more